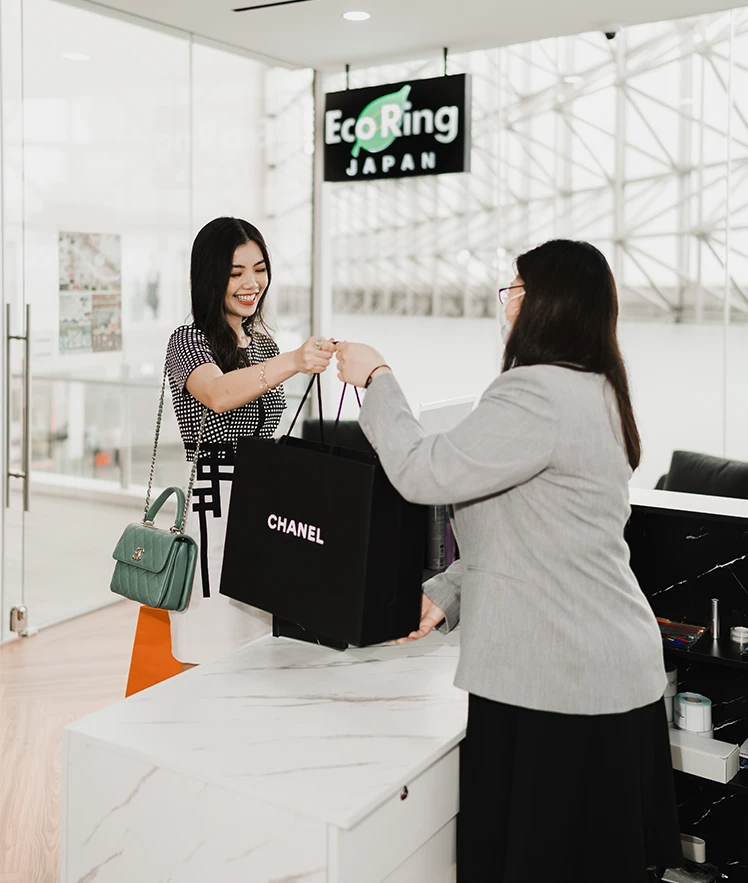 HOW IT WORKS
Sell Your Designer Bags & Items for Cash!
Sell your luxury bags online to EcoRing Singapore and receive immediate cash payment for any designer bags, watches, and more.
Visit any EcoRing Singapore stores with your items to start selling your luxury items, no appointment required.
Recommended if you are a new EcoRing customer selling pre-loved luxury items for the first time
FREE 1st hour parking per sale transaction completed at any EcoRing Singapore stores
LEARN MORE
Schedule a home visit and sell to us in the comfort of your home, completely free of charge!
Recommended if you are:
Looking to sell your secondhand bags, watches and other designer items in large quantities
Too busy or unable to visit our stores
Concerned about safety risks of bringing high-value items out
LEARN MORE
Schedule a complimentary courier pick-up and send us the luxury items you'd like to sell.
Recommended if you are:
Too busy or unable to visit our stores
Unwell and prefer to sell via a contactless option
TERMS & CONDITIONS APPLY
Why Sell to EcoRing Singapore
Trust the premier and established pre-loved luxury shop in Singapore to sell your used watches, bags and other designer items. Originating from Japan, EcoRing began its journey in 2001. Today, we proudly serve multiple countries, including Singapore, Malaysia, Indonesia, Hong Kong, Thailand, Cambodia and the Philippines.
ABOUT US
Sell luxury items of any condition
As long as your items are from a luxury designer brand, you can sell them to us regardless of how old, used, broken or defective they are.
*EcoRing Singapore reserves the rights to decline the purchase of certain conditions.
Sell any luxury branded items
Bags, wallets, watches, jewellery, clothes, accessories, etc. We accept anything from any luxury designer brands you intend to sell such as Hermès, Chanel, Louis Vuitton, Dior, Cartier, Rolex, Mont Blanc… the list goes on!
*EcoRing Singapore reserves the rights to decline the purchase of certain brands.
Professional Value Appraisal and Guidance
Each EcoRing Luxury Appraiser is rigorously and professionally trained to ensure we deliver the highest service standards and a delightful selling experience to our customers. We dive more into selling with EcoRing here.
What Our Customers Have Sold to Us
Delve into our recent acquisitions, showcasing the luxury items we've proudly purchased from our esteemed clientele.
Locate Us
Find the foremost pre-loved luxury store to sell secondhand branded bags, watches, wallet and shoes in Singapore.
Orchard
#02-83 Far East Plaza
14 Scotts Road
Singapore 228213
OPEN: 10AM - 7PM (Incl. PH & Weekends)
CLOSED: All Wednesdays
Parking Space Available
Serangoon Gardens
#01-22 myVillage
1 Maju Avenue
Singapore 556679
OPEN: 10AM - 7PM (Incl. PH & Weekends)
CLOSED: All Wednesdays
Parking Space Available
Marine Parade
#02-06/07 Parkway Parade
(Near Ichiban Boshi / Putien)
80 Marine Parade Road
Singapore 449269
OPEN: 10AM - 7PM (Incl. PH & Weekends)
CLOSED: All Wednesdays
Parking Space Available
Chinatown
#01-26 Chinatown Point
133 New Bridge Road
Singapore 059413
OPEN: 10AM - 7PM (Incl. PH & Weekends)
CLOSED: All Wednesdays
Parking Space Available
https://www.youtube.com/watch?v=Dr3gkEBLHa4